Last night was the Britney concert... I don't know how to even begin to describe it. It was so many many things. Good, bad, crazy, boring, upsetting, entertaining, and on and on.
Am I upset? A little bit. I feel really bad for the people who paid crazy amounts of money to be there last night. It was disrespectful. Britney performed 3 songs and then there was a little video montage and some cirque dancers and then nothing. Five minutes later some set pieces moved, but then still nothing. After 10 minutes a voice came over the PA system explaining that there was too much smoke and the show would not begin again until all the smoke had cleared. After 30 minutes, the show finally restarted and continued as normal.
I do not for one second believe that smoke was the reason the show stopped. I am offended that that was the excuse that was used. Just because we live in Vancouver doesn't mean we are all potheads. It wasn't a pothead crowd either. Why didn't the ushers tell people to stop? Why didn't they tell us to stop right at the beginning of the blackout? The whole thing was ridiculous!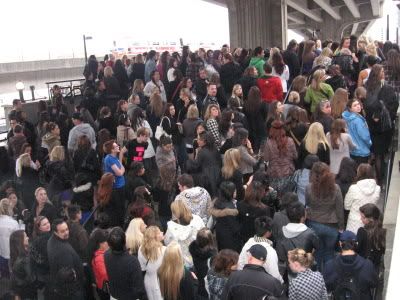 It was incredible how the crowd was not mixed at all. It's was entirely 18-25 year olds dressed in outlandish and slutty outfits.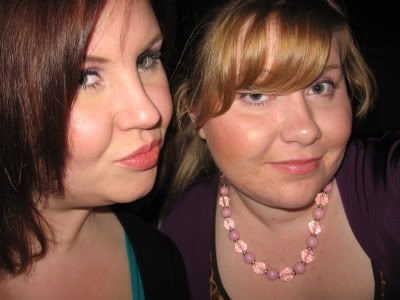 Tina and I, very happy to be there at this point.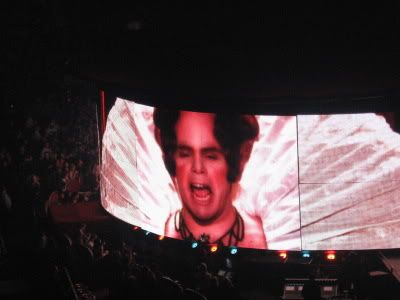 It was a good opening. I liked the Perez part. It was fun. But I feel like whole circus theme is just too much like Christina Aguilera's last album and tour. And it doesn't measure up either. Britney scored a point for actually doing it in a ring and getting Cirque performers, but she lost five for not caring about the show at all.