This is a picture of the BC legislature offices that I took in Victoria last weekend. It seemed fitting to put it up since yesterday was the BC Provincial election. Unfortunately we still have the same Premier and the referendum didn't go through.
It was an interesting day yesterday. I worked the election handing out ballots and counting them at the end of the night. It ended up being a 15 hour work day. I didn't mind except that I had the worst partner in the world. She was very anti-NDP (and I am not). I don't care what party she votes for. We were supposed to be non-biased and she kept trying to engage me in a political conversation. She actually told the NDP Scrutineer how much she disliked her party!!! Not a big deal except for that fact that it's illegal!
One of the first things she told me was that she doesn't believe in evolution. She's the first person that I've ever met that doesn't believe in it (or at least is open about having that belief). That's okay. I can deal with people having different opinions than me. I'm pretty easy-going. But she wouldn't shut up about it. I was actually offended. She kept talking about how she wanted to go back in time and shoot Darwin. This wasn't just one conversation either. This was the entire morning and afternoon. More than half the day. And I don't think I can really call it a conversation either since I wasn't talking. I was reading a book and she was still going on and on about it. I was afraid that if I said anything I would just explode. Finally my best friend came over with a geology text book and started giving me a lesson on the history of the world. The girl was very interested in everything Laini was saying and kept agreeing with her over and over and didn't mention evolution once. Thankfully after that she kept her mouth shut on the evolution front. But that didn't stop her from talking every single second. Sorry for the rant. Yesterday was a very long day. Hope I didn't offend anyone.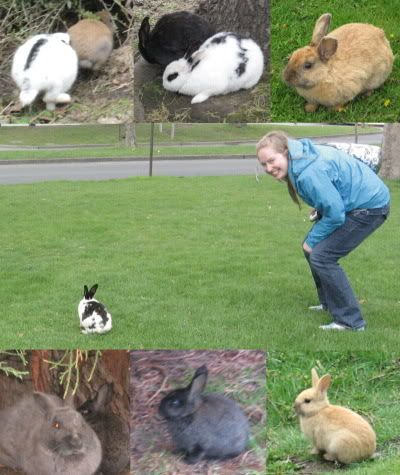 Bunnies to balance out the negativity! Amy and I went to UVIC while Laini was in class to check out all of the wild bunnies running around campus. I thought she was joking when she told me there were everywhere, but they really were everywhere. And so cute!
We took the classic tourist pictures in front of The Empress hotel. I remember going there for high tea on a field trip one year.
The harbour. The big yellow building with all of the columns is the Victoria wax musem.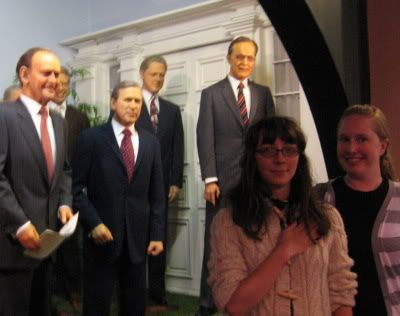 We had a lot of fun looking at all of the wax figures.
I had to have my picture taken with the characters from the Wizard of Oz due to my obsession with the musical/book Wicked (which I will probably see twice this year for a total of 4 times!).
Laini and I bought some cheap straw hats with fancy bows at a cute little thrift store.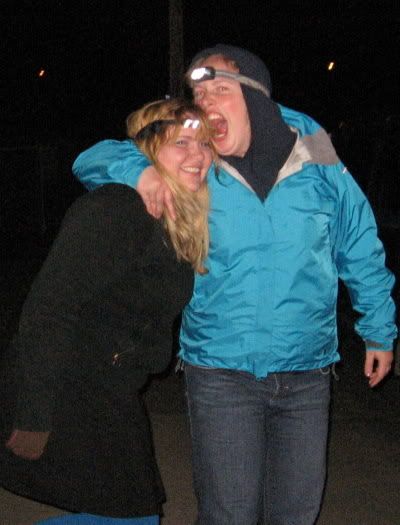 After the hockey game, we walked across the street to the beach. Amy and I wore some stylish head lamps. Very chic.
We drove up to a lookout point and you can see the beach where Laini lives. Oh, how I would love to live next to water.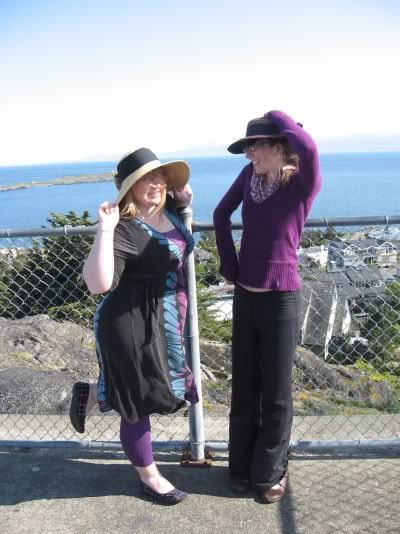 I liked Victoria so much more than I thought I would. It was so great to visit Laini and see her new city.
-Ellie