Lazy day today; I did a whole lot of knitting while watching The City marathon. Personally, I prefer the aftershow to the actual show itself. I have a huge crush on Dan Levy (it's the glasses). I wish the show had more fashion and less "non-drama". I also shovelled the drive-way because it SNOWED again. I'm so over this snow business.
FINALLY some Gossip Girl! I had my dear friends Amy and Dhillon over for the event (as we do every week). Part of the reason I missed GG so much was because I missed seeing them on a regular basis. The episode was good, but it didn't meet my too high expectations. I didn't realize the preview I had seen was for the rest of the season, so I kept waiting for a Blair breakdown that didn't really happen. But she did impress me with her wardrobe (as always)... and of course I love anything that is theatre related.
Does anyone know where else this dress was worn? I've definately seen it somewhere else, but I can't place it. Was it in another episode of Gossip Girl, or somewhere on the red carpet? If you know, please fill me in. It's just one of those things, like a song you can't quite remember.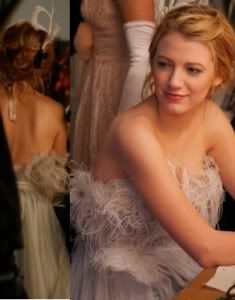 I had an excellent Saturday night. My friend Par is moving away, so we had a going away party down town.
What I wore: Shirt - Suzy Shier; Tank - Ricki's; Skirt - Smart Set; Tights - Le Chateau; Necklace and Earrings - Icing; Flower - Ardene's; Belt - came with jeans.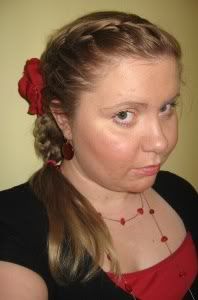 A few of us left the suburbs and headed down town a bit early so we could meet up with a friend of mine from Ontario. We went to Cafe Crepe for dinner. Down town is so different than it was a year ago. There used to be only one Cafe Crepe, but now there is one on every block.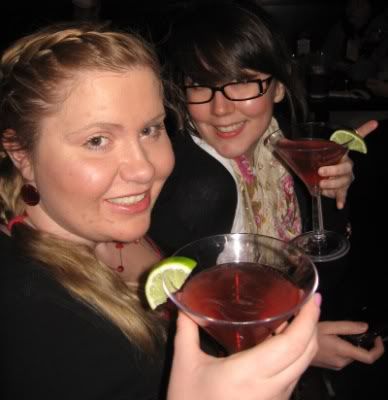 Two minutes after getting into the bar, Steph already had two guys offer to buy her drinks. Because she is damn hot! I loved her outfit. So classy.
Chris was really disapointed when the string on his little green hat broke, but with a little nail power, I was able to fix it... twice.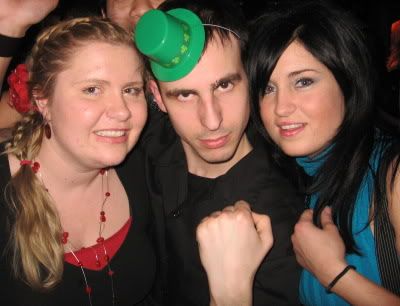 Dhillon, wearing the shirt I picked out for him. It makes me smile a lot when people like the clothes I force them to wear. We had a mini argument over him trying on this shirt when we went shopping a few weeks ago. I demanded that he try it on, even though it wasn't his size. And then he loved it. And so did everyone last night. At one point, he thought I was telling people to compliment him.
I was very impressed by Chase's attire.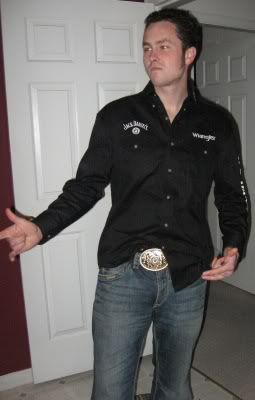 Ever wondered what happens at the 25 Cent Peep Show? Well, first of all, let me tell you, 25 cents it is not! Minimum purchase $5.35. False advertising? Um, yes. Very upsetting. Jen left the club because she was curious as to what was behind the black curtain and decided to cave in and cough up the $5.35. She was given several "25 Cent" tokens. The peep show was actually a video of 80s porn. Sexy. She used a few tokens and then went back to the club to see if anyone else wanted to see a show. Steph and I decided to join her behind the curtain, but before we were able to see anything, the grumpy clerk informed us that we would have to pay again. He said that the sign clearly says "No Re-entry"; there was no such sign. We were very disheartened by the whole experience.

Despite not being able to view the Peep show, it was a very enjoyable evening.