Time for some Canada Love. I went to see "One Week" tonight, and it was really good. I got very excited about all of the neat images of Canada. It's about time we have a movie that shows how awesome we are. There are very few things out there that are strictly Canadian. Tim Hortons and The Bay aren't even Canadian companies anymore. We have a lot of film productions shooting up here, but rarely does Canada get to be Canada when it's on screen. I really enjoyed getting to see lots of familiar places that weren't disguised as somewhere else.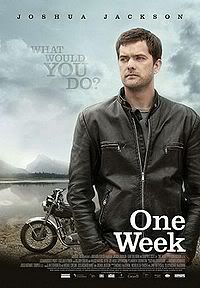 I just wanted to do a shout out to my favourite surf shop. It was featured in the movie, and of course, this thrilled me. I have so many good memories of this place. The guy who used to own it was a lovable nut job who would entertain us with stories of horse tranquilizer pills and acid flashbacks. I was disapointed the last time I went back to find that it's under new management now. Although, it's probably for the best.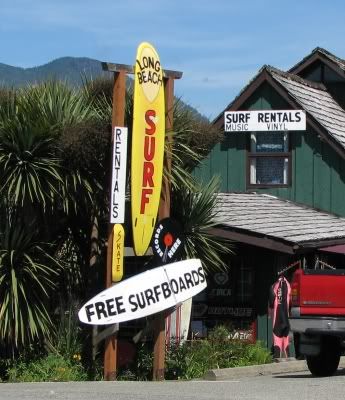 Don't Laugh. This is my wallet. And I LOVE it. It's one of my favourite things. I got if for Christmas from my mother. I don't know how she found it, but it is absolutely perfect. The dogs in the photo look identical to my dogs. They are even gender appropriate. AND, they are wearing bows!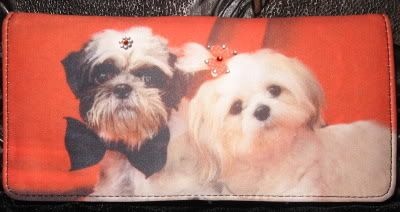 Movie night tonight. This is what I wore/am wearing...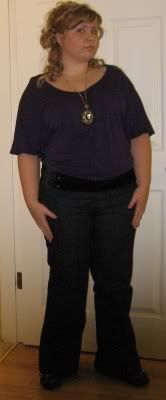 According to my friend, Amy, I left this necklace at a party she threw a few years ago. About 8 months after the party, she finally returned it and was so pleased with herself for finally remembering to give it to me. The only problem was it's definately not my necklace and I don't even think I was at the party where it was lost. I tried to give it back to her, but she refused to take it since now she had absolutely no idea who it belongs to. So, I guess it belongs to me now... unless it's yours, and then you can have it back. I don't wear it very often, but I like the kitchy vibe.
It's pretty much a lace pom pom (or as Tina would say, a doily), but that's what makes it great.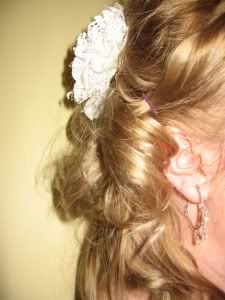 I bought this belt at a really cute vintage store in Kelowna. I really liked the entire selection in the store and everything was a pretty good price. Usually when I went there, everything was fine and the sales ladies were all really nice. But one day (Actually it was St. Patrick's Day, almost 2 years ago), I went in with a few friends from out of town. There was a new sales girl working and she kept following us around the store, keeping a watchful eye on us. At one point, she came over to me, grabbed MY jacket from out of my hands and proceeded to put it on a hanger and went to put it on the rack. I have no idea what would posess her to do something like that. Obviously, she thought it was store merchandise, but even if it was, if someone is carrying an item around the store, that generally means they are interested in purchasing it. I haven't been back there since, which is a shame, since I quite liked that store.